Rags and Bert's Hotel for Dogs
Overnight boarding for dogs
Overnight boarding with Rags and Bert's is attention and comfort personified.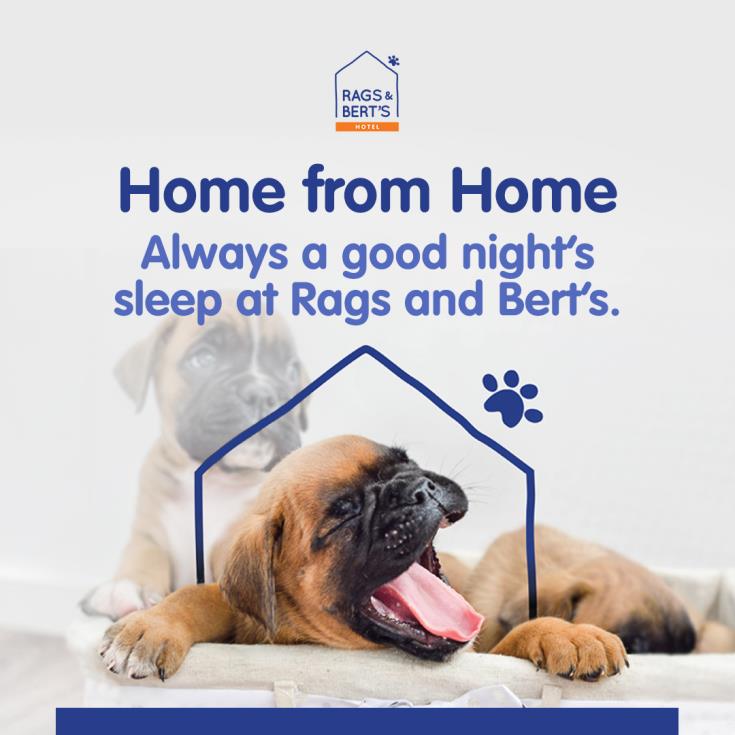 You can enjoy your time away, knowing your dog is in safe hands in our brand new dog kennels built to the 2016 regulations. And after breakfast, your dog will experience a timetable of fun, learning, rest and structured play with his friends.
One-night sleepovers, holidays and longer stays
We welcome your dogs for one-night sleepovers, holidays and longer stays. Our priority though is for Rags and Bert's Doggy Day Care guests who have already gone through our free 15-minute Play &Stay assessment, giving you a worry-free time, knowing your dog is well cared for night and day.
Dog Hotel Accommodation
Our dog accommodation has the best and latest facilities. Air Con, heating, protective glass doors and raised bed sleep areas so our curious guests can see what's going on at all times.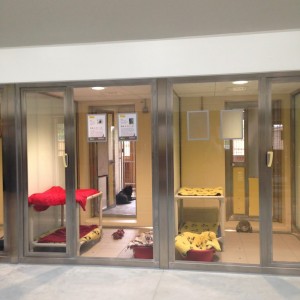 Toys and blankets from home? No problem, plenty of space.
More than one dog? No problem, book into one of our family guest rooms.
Dog-pampering? Of course! Apart from our number one priority, providing plenty of cuddles, strokes and lots of attention throughout their stay, do take advantage of our bathing, shampoo and trim service.
Any obedience concerns? Let us look after that too.
Our dog hotel is unlike conventional UK dog kennels. Dogs are not caged for hours on end, but enjoy clean, comfortable dog suites in our brand new top of the range dog kennels.
As well as expert care and love for your dog, they also receive some fun, socialisation and enrichment time in doggy day care. Once again, your dog is amongst his buddies, enjoying a bit of play, socialising, a little bit of obedience and hang out time… they are so happy, you just know they want to be here.
And if your dog is boarding with us over the weekend they will have lots of fun with a mixture of indoor and outdoor social time, one and one love with our team before returning to their individual room for some well-earned rest and relaxation.
Rags and Bert's Sleepover Requirements:

You are welcome to check in Mon/Fri between 2pm-4pm & Sat/Sun between 12-2pm
Please pick your pet between 9am-10am the following day or book a late check-out
If you wish to drop off or collect outside these times you can take advantage of our Doggy Day Care activities and pay a further full/half day fee
It's always a stress-free stay because your dog has lots of human company.
Dog Hotel Bookings
To book a place in Rags and Bert's dog hotel, please call 0118 207 7788 or complete the enquiry form below.
Prices from:
£36.00 per night per dog
£31.00 per night per dog, for 2 dogs in family room
£26.00 per night per dog, for 3 dogs in family room
Click here for all overnight pricing